St. Pius V ReadQuest Article
St. Pius V Catholic School participated in a nationwide reading event called ReadQuest on Friday, March 3, 2017. The theme for Renaissance® ReadQuest™ was "Your Passport to Everywhere." Children travelled to places near and far through reading.
Fifth grade student, Isreal Lucas, takes a test on ReadQuest day.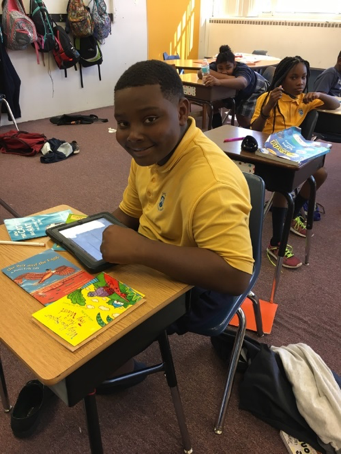 Mrs. Franqui's Second Grade class started the day off with a story from the U.S.A, "Green Wilma," and then they went to Lima, Peru, with the book, "The Stolen Smell," from there they went to Asia and read, "The Magic Pot". Then the second graders visited the Middle East and read, " The Magic Apple," and then they visited Africa and read, "Anansi and the pot of beans." After their visit to Africa they visited with the Native Americans and learned how fire was discovered in, "First Fire: A Cherokee Folktale." From there they continued their travels with a stop in Mexico and the story, "Medio Pollito." After their stop in Mexico, they went to India and read, "The Mouse and the Wizard," and then they finished their worldly travels with a final destination to Turkey where they read, "The Donkey Reads." Second grade won the ReadQuest battle by taking 104 quizzes with an over 80% comprehension rate. Mrs. Franqui said this was a great lesson because the classes got to incorporate social studies, and the value of traditions, customs, artifacts, and celebrations.
Students at St. Pius V Catholic School took over 350 comprehension quizzes on Thursday and Friday! Principal Lauren May shared, "I am so proud of our teachers and students. Readers make leaders and we are very blessed to be shaping future leaders by encouraging them to read, read, read!"
Kindergarten student Sharrianna Bennett celebrates getting a 100% on her first ever AR Quiz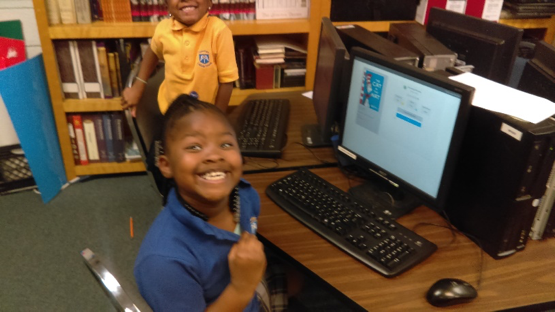 Students from thousands of schools across the country read books and nonfiction articles before taking Renaissance Accelerated Reader comprehension quizzes on what they've read. Mrs. Franqui exclaimed, "We loved visiting all of these destinations around the world and taking back worldly treasures, the lessons!"